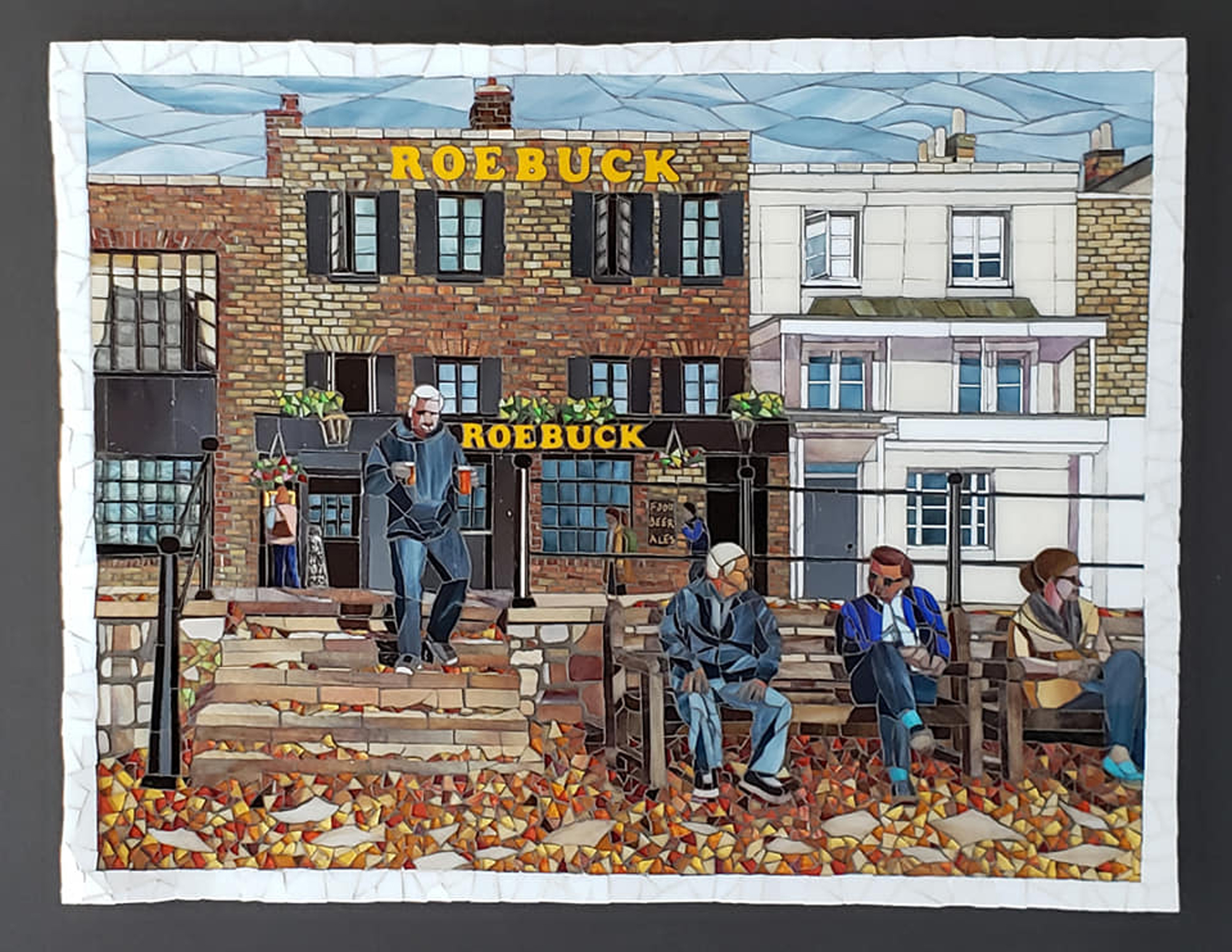 Workshop: Figurative Mosaics in Stained Glass
Instructor: Shug Jones
Class time: Session 21
Session 21: 2 day class - Wednesday, September 27th, 8:00AM - 5:00PM (with 1 hour lunch break)
AND Thursday, September 28th, 8:00AM - 5:00PM (with 1 hour lunch break)
Fee:
$425 USD
Material fee:
$30 USD
Location:
Hyatt: Regency Ballroom C
Class level:
Intermediate/Advanced
Class Description:
Figurative work can be intimidating but it doesn't have to be. Join us as we learn to break down figures and their surroundings to bring them to life using light, shadow, movement, gestures, and perspective. Not only mosaic techniques, but elements of art that will improve your work in any medium will be shared. Students will spend time critiquing their work and those of the other students to learn how to identify issues and figure out how to address them.

Students will employ standard glass cutting tools, diamond files, a glass grinder, and glass nippers to shape stained glass. References will be provided by the instructor to work from. This session should particularly benefit those who have some mosaic or stained glass experience. They should be able to use nippers and have a basic understanding of using stained glass cutters. Students will work on a figurative mosaic and may or may not finish during the workshop, depending on their speed and experience. Students should leave with an understanding of how to choose a reference, break it down, and create a realistic figure. The instructor teaches in a clear, easy to understand manner. There will be some lecture as you work and plenty of one-on-one help along the way.

WHAT TO BRING:
Glass nippers (I prefer Leponitts)
Tweezers
Pencil or pistol grip glass cutter (if you have a favorite)
Grozier pliers - some will be available for use but will need to be shared Running pliers - some will be available for use but will need to be shared Stained glass (colors depend on reference chosen)
Paper and Ball-point pen
Scissors
Shug Jones has been making art her entire life. She has studied in Italy and Mexico as well as several cities in the U.S. with internationally known artists. Shug has taught mosaic workshops in Detroit, Chicago, Virginia, at her studio in the Dallas area, at several Society of American Artists (SAMA) conferences in the U.S., and at the 2009 Mosaic Association of Australia and New Zealand (MAANZ) conference in Brisbane, Australia.

Creating mosaics both small (wall hung) and large (installations) her work is in private, healthcare, education, and hospitality collections across the U.S., including several public art installations. Her mosaics have been exhibited far and wide. After retiring from large scale work, Shug concentrates exclusively on her figurative narrative mosaics inspired by her love of travel and people.